Cozy, quaint and spacious single-room studio units.  Unfurnished so that you can make it your own. Units feature private bathroom, large closets, baseboard heat, carpeted main living area and vinyl flooring in bath, large picture window, and ceiling fan.  
Communal Kitchen and Laundry Facilities (non-coin operated) located on the 2nd and 3rd floors of the building.
Pets are prohibited.
We offer several rent rate options: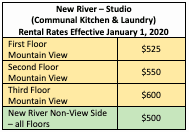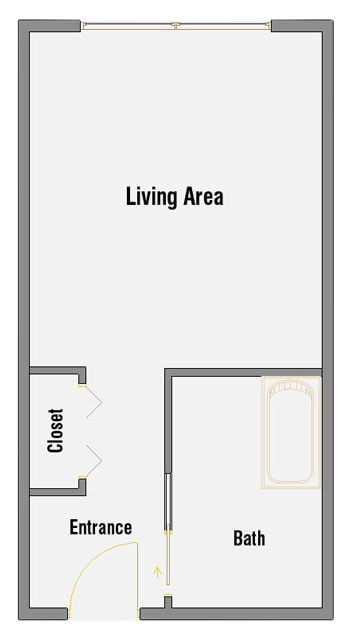 Additional Fees:
$35 Non-Refundable Application fee per applicant
$175 Non-Refundable Admin fee for New River
Security Deposit (Rent minus Admin fee)
Additional tenant on the lease = $100 rent per month       
Approximate Unit Dimensions:
Bedroom – 13 x 16ft
Hallway – 4 x 10ft
Bathroom – 6 x 8ft
Large Closet – 3 x 5ft
Small closet – 3 x 3ft
Approx. 366 sq. ft.
Blue Ridge Preservation is situated in a secluded and peaceful setting. The property is surrounded by nature and forests along with several walking trails that promotes connection to nature.  Our units are located along the rim of a magnificent valley with abundant and spectacular Mountain views. Peacefulness, nature, and the mountains are just outside your door….you are going to be glad you selected Blue Ridge Preservation as your home.
We offer 12-month leases  
We offer market comparable rents which include all utilities:
Heat

Water

Sewer

Trash

Internet

Free Parking
Reduced resident rates available for onsite staff facilitated Yoga and Meditation Classes
15 minutes from the Downtown Boone, App State & Caldwell Community College
Call or email to schedule a property tour or unit viewing
Download a pre-leasing application today
Contact us at 828.264.6040 to schedule a tour.  We can also be reached by email at: leasing@aolrc.org   
Office hours are Monday – Friday 10:00am to 4:00pm.  

Contact us to reserve your apartment today at 828.264.6040 or email us at leasing@aolrc.org.